Simple Fundamentals Create Profit
Fundamental principles of cattle production define the Begger Diamond V Ranch program. Located near Wilbaux, Montana, Diamond V branded cows have marginal room for error.
To remain in the Begger herd a cow must maintain balanced udder structure throughout their lifetime, calve unassisted, and bring home a heavy calf at weaning time. Currently, the herd consists of approximately 450 of these self sufficient females; with one third calving in the fall and two thirds of them being spring calvers.
"We rarely assist a cow- under any circumstance- whether it's calving or helping her calf nurse, we just don't have the labor or resources to give every cow special treatment," explains Bill Begger, who owns Begger's Diamond V Ranch with his brother, Bob Begger. "With our kids gone, we don't have a lot of extra hands around. That's why we've made the decision to switch our program to a larger concentration of fall calving."
The Begger's determined a fall calving program proves win-win for not only the economics of their operation, but their bull customers' needs as well. "By offering fall born bulls on our spring production sale we present producers the opportunity to purchase a bull with a little more maturity and the ability to cover more cows in his first breeding season."
Older bulls aren't the only reason Bill and Bob find fall calving a better fit for their program. When comparing death loss percentage among calving seasons, their fall calvers have a near 100% calf crop. "And that's with less supervision and care than our spring calving cows," adds Bill. "We have literally not seen a calf born in this year's fall crop. We just find them out in the pasture, already up and nursing."
Beggers credit this efficiency and vigor at birth to what they feel is the ultimate cross- SimAngus. "We feel the SimAngus cross is second to none, especially when it comes to maternal traits," Bill explains. "Although our family has explored different breeds of cattle, Simmentals have always fit this program best."
Pioneers in the conversion of solid black Simmentals the Begger family has ranched in the Wilbaux, Montana area for a half century, beginning with Bob and Bill's father, Harry. Presently the operation is run by Bill and his wife Darlene, and Bob and his wife Virginia. Their current home ranch was acquired in 1968 and the family implemented an AI program in 1974; the first Begger bull sale was then held in 1976.
Because a large percentage of Begger customers prefer black cattle, the operation demands the use of homozygous black and polled A.I. studs and herd sires. With nearly 85% of their brood cows also fitting this bill, the ranch has not had to dehorn a calf in ten years. The few remaining red cows are bred back to red bulls, filling the need for customers preferring a red Simmental.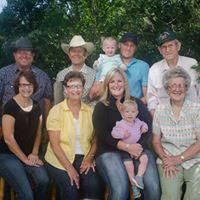 Parallel to the rigorous culling program established for their cows, Begger bull calves must adhere to similar testing in order to make the final cut for the annual production sale. Fall born bulls are weaned early March and then put through a 90 day gain test. In early fall the top end is turned out and expected to thrive on grass with mineral as their only supplementation. Spring born bull calves are developed on a high roughage diet after weaning and marketed with the older bulls on the annual sale held the first Wednesday in February.
"We pride ourselves in marketing bulls developed on a practical feed program," says Bill. "We don't believe in feeding these young bulls a high-grain concentrate diet." The ranch supplies approximately 140 bulls along with a feature group of about 45 spring bred cows each year.
This economical way of growing seed stock has not gone unnoticed among other Simmental producers. Begger Diamond V bulls and females alike can be spotted in many popular pedigrees, proving the Montana bred cattle can not only perform, but reproduce high quality genetics as well.
Looking forward, the Begger family foresees a possible expansion in their herd once the conversion to a primarily fall calving program is established. "I believe we'll increase our herd to 500+," determines Bill. "Because fall calving allows us to decrease the amount of labor required, Bob and I will then be able to increase the amount of cows we run."